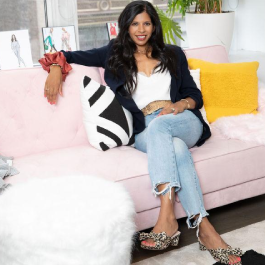 Michelle Cordeiro Grant is a serial entrepreneur, angel investor, podcast host, and eternal optimist.
Michelle spent the tenure of her career at household names in the retail industry including Federated
Merchandising Group, VF Corporation, and Victoria's Secret. Just before beginning her entrepreneurial
journey, she spent two years at Thrillist Media Group, where she "got her MBA in startup," learning the ins
and outs of what it takes to build a fast-growing brand.
In 2016, Michelle founded LIVELY, a community and brand inspiring women to live life passionately, purposefully and confidently. Over just three years, Michelle grew the brand's ambassador community to 165,000+ members, expanded their retail footprint to 5 stores across the country, launched a retail partnership with Target, and closed a $105M acquisition by intimates leader Wacoal.
Michelle founded her next adventure, GORGIE, in 2022. As CEO, she is on a mission to make wellness fun, focusing on products that actually taste good, feel good, and look good too! From concept to shelf in 6 months, GORGIE launched with a line of sparkling energy beverages with benefits featuring Green Tea Caffeine, natural flavors, Biotin, L-Theanine, and B Vitamins. Michelle has taken an innovative, community-first approach to building the brand, partnering with their rapidly-expanding circle of followers and friends across social media. GORGIE is sold online, in select Whole Foods Market stores, and in an expanding list of natural retailers.
Michelle has been featured across top tier outlets including the New York Times, Wall Street Journal, Fast Company, Forbes, Business Inside, Inc., theSkimm, WWD, TechCrunch, CNBC, Allure and many others.