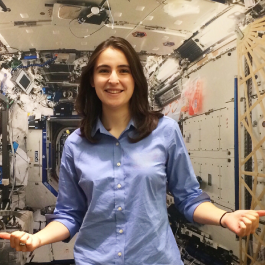 Rachel Lindbergh is a space policy analyst for the IDA Science and Technology Policy Institute (STPI), a federally funded research and development center created by Congress to support the White House Office of Science and Technology Policy. Rachel graduated from the University of Chicago in 2019 with a degree in Public Policy and Russian & Eastern European Studies.
As a high school student, Rachel started her journey in space by sending an experiment to the International Space Station (ISS). Through the Student Spaceflight Experiments Program (SSEP), Rachel and her team investigated tin whiskers in lead-free solder, learning about the ups and downs of research in space first hand when her first two attempts at transporting her payloads to the ISS were destroyed with the explosions of the Cygnus Orb-3 and SpaceX's CRS-7 rockets in 2014 and 2015 respectively.
After becoming a member of an exclusive club no one wants to be in—those who have seen their life's work blow up on a rocket — twice—Rachel's experiment (finally) reached the ISS on the SpaceX-8.
Rachel continued her journey into space exploration at the University of Chicago, where she discovered the importance of space policy and wrote a distinguished thesis on the ISS National Laboratory's role in Low Earth Orbit (LEO) Commercialization. After graduating with degrees in Public Policy and Russian, Rachel now uses her experience as both a science and a policy researcher to support American efforts in exploring the Final Frontier.