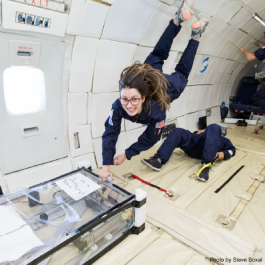 Paula do Vale Pereira is a Ph.D. Candidate in the Space Telecommunications, Astronomy, and Radiation
Laboratory at MIT, where she works on developing new capabilities for space-based exploration systems.
Her Ph.D. work focuses on the thermomechanical development of probes for the exploration of Ocean
Worlds, such as Europa (moon of Jupiter) and Enceladus (moon of Saturn). Paula has worked on the design,
manufacturing, assembly, integration, testing, and in-orbit operations of an imaging satellite currently in
space, called DeMi. She is also currently leading the assembly, integration, and testing of an Earth
observation CubeSat, called BeaverCube. Paula is a hands-on engineer passionate about machine shops
and bringing ideas into life. An active voice in advocating for diversity, inclusion, and high-quality research
advising, Paula has been involved with numerous student groups, institute-level committees, and NGOs
across and outside of MIT. Paula is also passionate about giving back to the community, and has lead or
got involved with numerous outreach and educational activities, impacting younger generations of multiple
continents. Paula is an Amelia Earhart Fellow, a TVML Fellow, an Aviation Week/AIAA 20 Twenty, an MIT
Graduate Woman of Excellence, and a member of the AIAA Small Satellite Technical Committee. Paula has
received a B.S. (Summa cum Laude) and an M.Sc. in Mechanical Engineering from the Federal University of
Santa Catarina (Brazil), a B.S. in Management from the State University of Santa Catarina (Brazil), and an
M.Sc. in Aerospace Engineering from MIT.