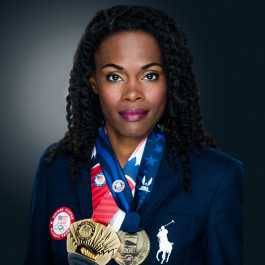 If there's an art to facing obstacles and coming out on top, Chaunte Lowe takes the Gold. The world-renowned high jumper lives to conquer barriers, racking up four Olympic Games Appearances, an American record, and several global accolades. Many are surprised to learn that she achieved most of these accomplishments while also holding the title of "mother of three."
Her performances on the field have earned her inductions in three separate halls of fame; four invitations to be honored at the White House and featured in numerous publications, including The New York Times, Vogues, Glamour, and Sports Illustrated.
Chaunte would have never guessed, with all that she accomplished, that her biggest obstacles would come off the track. In 2019, Lowe was rattled with the devastating diagnosis of triple-negative breast cancer, which is among the most aggressive forms.
In a state of disbelief, Chaunte took the crushing blow head-on, being forced to bow out of the national championships for a double mastectomy and miss the world championships for chemotherapy. Still, in Chaunte fashion, she decided that she would fight against the odds and still train through chemo in hopes of making the delayed 2020 US Olympic team.
Now an inspirational speaker, her advocacy work focuses on early detection and breast cancer awareness to save lives. Reaching hundreds of millions of people, her work was honored with the NCAA Inspiration Award, The 'Hero Among Us' award, and she was recently named to Georgia Tech's 40 under 40 2021 Class.