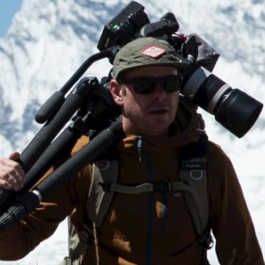 Bryan Smith is an award-winning filmmaker based out of Squamish, British Columbia. His first documentary, 49 Megawatts, received acclaim both for its amazing kayaking footage and insightful exploration of the controversy over British Columbia's river-based energy production. An online version went viral and led to two-feature length sea kayaking films. His work has appeared at numerous film festivals across the world, including the prized Banff and Telluride Mountain Film Festivals.
In the past few years, Bryan has built on his adventure film roots and developed a strong reputation in both TV documentary and commercial cinematography. With a knack for storytelling, an ability to assemble great teams, and an insane work ethic, his client list has grown to include National Geographic, Discovery, Disney, Red Bull, Patagonia, Arcteryx, and more. He has worked as both a Field Producer and Director of Photography for National Geographic Television on shows including Alaska Wing Men, Explorer, Nat Geo Amazing and Monster Fish. He also co-produced and directed The Man Who Can Fly, a 60-minute special about late base jumper Dean Potter, for the National Geographic Explorer series.
With extensive experience on Red, Alexa, Phantom, Sony F900 and just about every ENG camera platform and his track record for getting cameras into difficult and remote locations makes him a highly sought-after Director of Photography. When he's not dangling from a helicopter, Bryan is a leading public speaker around the world, regularly selling out 3,000+-seat halls.