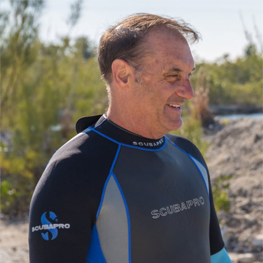 As president and CEO of the National Aquarium, John leads a team of 600 full-time and part-time employees and 1,000 volunteers in pursuing the Aquarium's mission to inspire conservation of the world's aquatic treasures. The Aquarium welcomes 1.3 million guests annually at its campus on Baltimore's famous Inner Harbor, and touches millions more through its engaging guest experiences, valuable educational programs and meaningful conservation initiatives.
John drives organizational priorities that evolve how the National Aquarium of the 21st century should look, operate and fulfill its mission. These priorities include three major projects through 2022—construction of a new Animal Care and Rescue Center, modernization of the Aquarium's waterfront campus for public urban conservation engagement and creation of North America's first dolphin sanctuary.
John joined the National Aquarium in July 2011 after 10 years as president of a San Francisco-based consulting firm that he founded to provide expert counsel to nonprofit leaders nationally and globally. During that time, his firm worked with over 30 leading cultural and conservation organizations—among them the Sylvia Earle Alliance/Mission Blue, International Union for the Conservation of Nature and Surfrider Foundation.
Prior to this, John spent 16 years in leadership positions at U.S. aquariums, including CEO of the Florida Aquarium in Tampa, and vice president of marketing and development for Monterey Bay Aquarium. While in college, John began his career as a diver and aquarist, experiences that he credits with giving him great appreciation for the work of everyone on the Aquarium team. John holds a degree in strategic management from Dominican University of California.