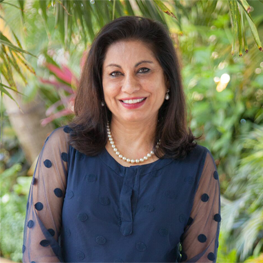 Bubli Dandiya was born and raised in India where she received a Master's degree in English. Soon after she got married, she moved to Zambia with her husband who is a physician and found a job teaching English at the University of Lusaka. Their next stop was the UK. In her words, "My husband has always had the travel bug and I followed him happily wherever his work took him." Germany was their next stop. His ultimate dream was to practice medicine in the U.S. By 1981 they set up home in N.Y. where she had her first brush with Montessori and fell in love with it. She promptly found a job at a Montessori school where she worked for 3 years. Subsequently, she took the training herself.
In 1986 her husband was ready to start his own practice and they moved to Florida where their 2 daughters were born. Needless to say, she was determined to give their children a strong foundation within a Montessori environment.
She now felt the need to create an authentic Montessori environment that she had envisioned all along. In 1994 she founded the school with a small group of 5 students which has grown to 280 students today. It serves children from Preschool through High school. With a deep commitment to the philosophy, embraced by a team of over 50 team members Turtle River Montessori is thriving today. In her words, " This 24 years journey has been most joyful and humbling".